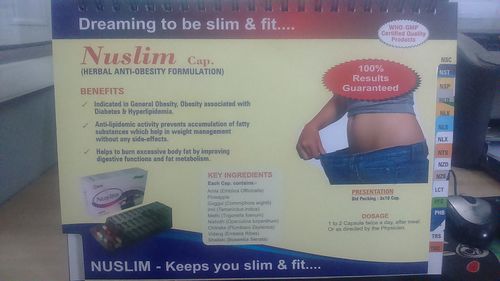 Herbal Franchise in Baddi
Product Code : 12
Product Description
NuAlter – NU depicts- Numero Uno – means No.1 & Alter means - A change for betterment.
We are
NuAlter
Group Company....started our journey in the year 2000 as a private Ltd company (Altar Healthcare Pvt. Ltd.), under the Indian Company Act of 1956 with an aim to promote quality pharmaceutical, veterinary & ayurvedic products in various forms of dosage. We have always strived hard to achieve excellence in the development of quality management, production, marketing and client satisfaction.
In view of current market opportunity, we envisaged to launch a new entity- NuAlter remedies, which is a part of leading & progressive group of companies under the banner "NuAlter" and is the result of efforts of the professionals who have rich experience in pharma manufacturing, marketing & sales field for last thirty three Years.
NuAlter Group, established with the sole motto to ensure 'Healthier and Longer lives' for the masses. We are one of the fastest growing group of companies, focusing on quality, not only in terms of finished allopathic, veterinary, herbal & related healthcare products but also prompt quality customer service and complete customer satisfaction. We produce and market more than 700 unmatched Quality Pharma, Veterinary & Herbal Products like Tablets, Capsules, Syrups, Injections, various nutritional products in soft gels, Energy Drinks, vet. Boluses, liquids, Protein Powders, food, feed supplements and a new range of Non DPCO & New DCGI approved molecules (Available in attractive ALU-ALU and Jewel packs).
Our product portfolio comprises a wide range of products available in different doses forms. We employ Rapid Release (RR)technology, which enhances drug delivery for faster response. Most of the products have USP's which keeps our products one up against many ''ME Toos'' in the market. We have recorded the highest as well as steady growth regarding new product development, production and quality management by bringing forth latest drug delivery system with RR- Rapid release, which is a improvised micronised Technology. We also assure our products as per the norms of QMS- ISO 9001:2008, GMP and Revised Schedule-M procesure. We follow ethical pharmaceutical marketing strategies for high institutional sales in the North-Indian states like Haryana, Punjab, Uttranchal, Rajasthan and West Uttar Pradesh with our smart team and field managers. Recently, we have felt the importance of third party manufacturing and franchisee business with the sole aim to assure business for mutual interest with both moral and material support. Smartly meeting the challenges of the market, we are a truly capable company with the growth rate of 25% - 35% in the last 16 years.  
Contact Us
S.C.F- 520, First Floor, Motor Market, Near Fun Republic, Manimajra, Chandigarh, Chandigarh, 160101, India
Phone :9902046214